We take our commission from Paul's second letter to a group of new followers of Jesus in Corinth in Greece (2 Corinthians 5: 18-20):
All this is from God, who reconciled us to himself through Christ and gave us the ministry of reconciliation: that God was reconciling the world to himself in Christ, not counting people's sins against them. And he has committed to us the message of reconciliation. We are therefore Christ's ambassadors, as though God were making his appeal through us. We implore you on Christ's behalf: Be reconciled to God.
Irish Ambassadors of Reconciliation (Irish Ambassadors) operates under the auspices of the Leaders and Followers Foundation 501(c)(3) in the United States of Americas and an association with County Trust, a registered charity in the United Kingdom.
📰 Sad News of the Passing of our friend John Kelly
August 27, 2018
I was overwhelmed to hear news tonight of the passing on to glory of our friend and brother John Kelly, the founder and former CEO of the Irish Chamber Orchestra. Our hearts go out to his wife Ellen, daughter Sarah-Jane and step-son AJ.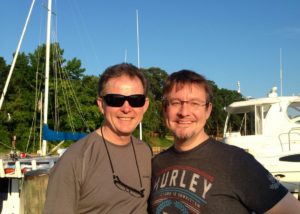 What a man of God, and a faithful follower of Jesus, John Kelly was. What a talent, what a friend, what an encourager, what a teacher – I could go on and on. But for John all the honor and glory must go to God.
I first met John with Raymond Sexton, on a wet Wednesday November 8, 2006, the day after the midterm elections on at the 39th Street home of the then Irish Consul General Tim O'Connor. I was leaning against a wall listening to Tim tinkling the ivories and I found myself beside John and got talking about Jesus.
The reason I remember the detail of the weather is because when it rains in New York it is virtually impossible to hail a cab, but to provide a lesson in the application of faith, John clicked his fingers (just like in a movie) and a cab stopped. Raymond was flabbergasted and asked "how did you do that" to which John replied, "simple, I just asked my Daddy. Don't you know we are the King's kids".
That was the beginning of a great friendship that brought us from New York to West Palm Beach, to Holywood, Co. Down, and took in The Cathedral Quarter Arts Festival, Belfast and the National Prayer Breakfast in Washington , D.C., and many a game of rugby and impromptu private concert along the way.
John played his violin for us and told stories about Jesus, to our friends, in churches, hotels, schools, pubs, and our homes in Northern Ireland and USA.
We vividly and fondly recall each occasion. We give thanks to God for John and pray for his loved ones in Jesus' name.
In closing, I thought who better to have the last word, but John and I have copied and pasted one of his messages to all his family and friends (from 2013):
"Dear Brothers and Sisters , [I am] reminded of what a great family we have. That our father God has called each one of us individually to walk in his grace and allow his glory to be manifest on this earth. This happens through our expectation of his grace reigning just as surely as sin reigned through Adam, which many times we are just way too conscious of. Our focus should be only on who we are in Christ and if the devil or a dead man tries to tell you different tell him who your father is.
Our Father is in the delivery business, and boy is he good at it, what ever the need. Sin, sickness and disease has no dominion over us, period. Our expectation is to see only his glory and He will see to it that it is manifest. We were raised in Christ, we are as he is, in unbroken fellowship with God our father. When we were born the first time in the flesh we were the product of our parents work. When we were born of the spirit we were the product of God's work in Christ. When God says that we were justified freely by his grace, that is what he meant, that Jesus Christ was a payment in full, not a half payment and that we also had a little cleaning up to do. We are in perfect fellowship with God and will be for eternity.
Romans 6:11
Even so consider yourselves also dead to sin and your relation to it broken, but alive to God [living in unbroken fellowship with Him] in Christ Jesus. 
God did a great work in Christ, it is done. We are only here to applaud.
When we let God's thoughts dominate our mind and our expectation is only on him, your applause and praise will resonate all around the world. Our lives are not about us, they are all about our father God and our Lord and savior Jesus Christ.
Our job is to get out of the way and let God's will be done here on Earth, he works in us both to will and to do of his good pleasure. All the insecurities, inadequacies, sins and all the rest we experienced in Adam are history. 
1 Peter 2:24
He personally bore our sins (past present and future) in His [own] body on the tree [as on an altar and offered Himself on it], that we might die (cease to exist) to sin and live to righteousness. By His wounds you have been healed.
We are thankful that we are new creations in Christ, that's God's workmanship. When God made us righteous he made us righteous, completely absolutely complete in him, perfect in every way, holy and with out blame before him in love. Do I hear an amen.
Embrace the grace and go dancing
Love you all
John"