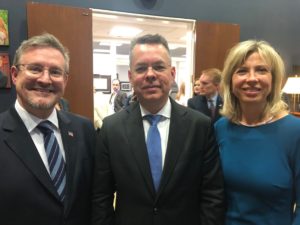 After two years of communicating through 'secure channels' with Norine Brunson, the incredible wife of Pastor Andrew Brunson who was imprisoned in Turkey, it was such a blessing this week to meet with Andrew, now freed and safely home in the USA and to get a Christmas hug from Norine! A special word of thanks to Senator James and Mrs Cindy Lankford from Oklahoma for hosting us.
Modern methods of communication provide incredible tools for staying in touch – to say I love you, to convey sensitive information and bridge time zones, cultures and seemingly impervious boundaries – but you simply cannot beat face-to-face contact, when you see the anguished and loving looks, sense the mood and gauge the body language.
As we worked to try and assist the Brunson family over the last two years we were sensitive to the fact that dark forces were trying to monitor and thwart every effort. We deployed sophisticated methods and 'Apps', that we believe remained secure throughout, and most significantly, we entrusted and enjoined a network of friends. Of course the most impactful and far-reaching communications network that was deployed was prayer. Remember, we are engaged in Spiritual Warfare.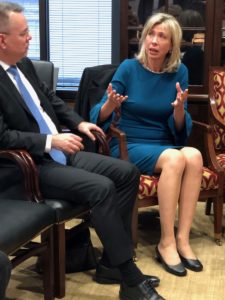 It was quite simply incredible and encouraging to hear so many stories from people responding immediately in prayer in response to the heartfelt pleas delivered by Norine. Personally I received assurances of prayer and stories of special gatherings from China, Australia, the UK and Ireland, from Africa and, of course, from across the USA, from Malibu to the Bronx! 😉 Norine told me how buoyed-up she was by these stories. Now that we have heard first hand from Andrew of the terrible and dark days he suffered, it seems to me that he too bounced back as the waves of prayer came in response to Norine cries for help.
We thank God that he opened the prison doors and that Andrew and Norine are united and home in the USA. This week they asked us to keep praying for them, but most significantly for Turkey.
In closing, it is worth considering Track II diplomacy, or "backchannel diplomacy" as Wikipedia describes it, is as applicable to corporate deals, Boardroom negotiations, trade disputes and critical conversations. Our work in international and corporate relations and in partnership building – in North America, to EMEA and AsiaPac – has given us unique perspective and a wonderful network of friends.
In the midst of the so called 'Holiday Season' and the incumbent networking receptions, cocktail parties and dinners, I am reminded of Basketball Hall of Famer Satchel Paige's line "the social ramble ain't restful", but I am more so reminded of just how important it is to be #WITH friends – by whatever means, whether it is secure channels, back channels, or preferably face-to-face.
#Together #With #GoodCommunications #CriticalConversations #ChristmasHugs #HappyHolidays #Prayer #PrayerNetwork #SpiritualWarfare #CongressionalLeaders